Teen Jobs
Revolutionises Recruitment
It all started with the question - there must be a faster, easier and cheaper way to connect with job seekers? Teen Jobs uses kiwi ingenuity to flip recruitment on its head. Job seekers create a profile then employers choose appropriate candidates!
Completely free to search our network
Fast and easy to find a suitable candidate
Filter teenagers by work type, locations and availability.
Search Job Seekers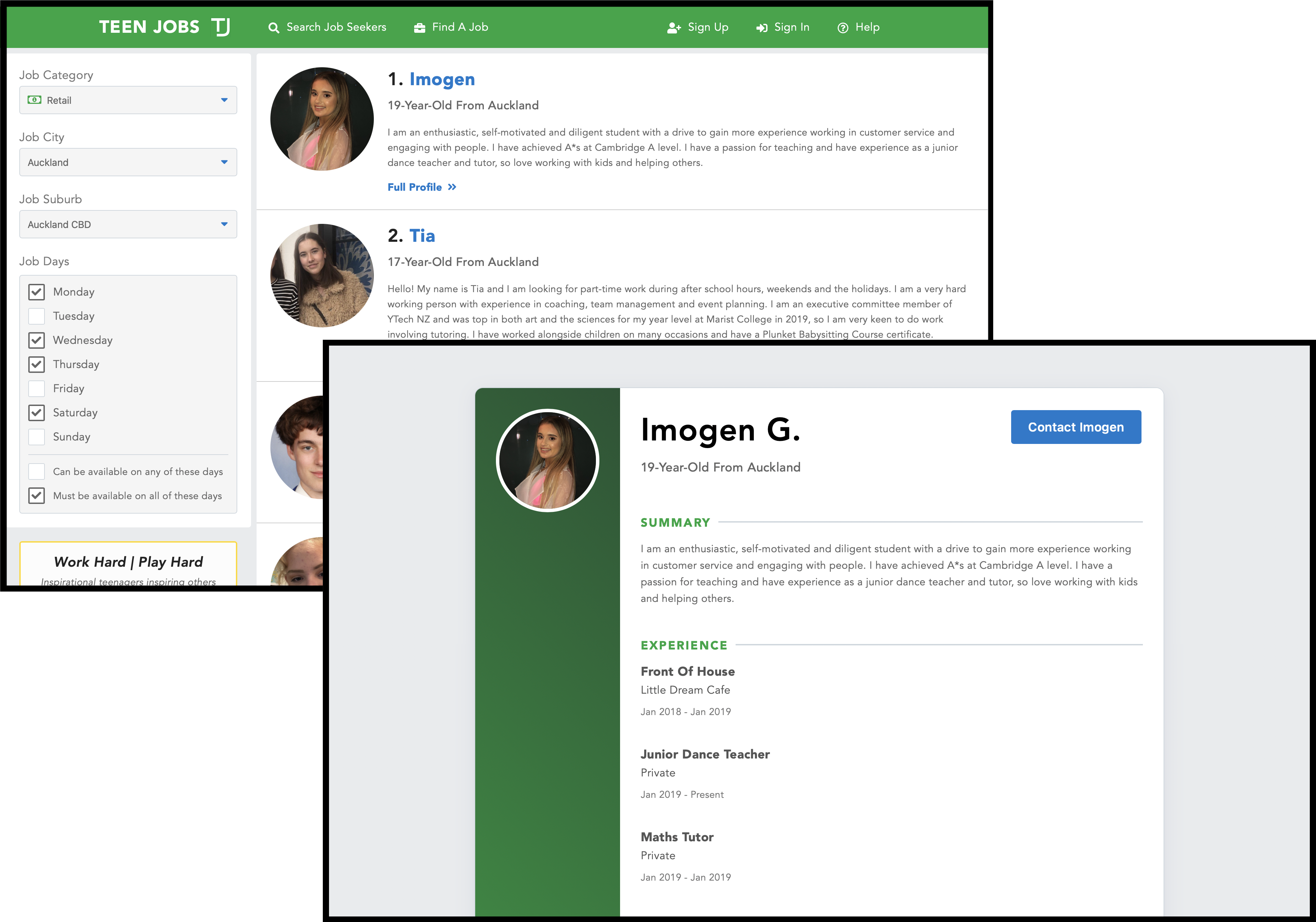 Fill Your Job Opening In 3 Simple Steps
Search Profiles

View thousands of local candidates profiles.

Make Contact


Arrange an interview to ensure a good fit.

Employ


Done - Employ the job seeker!
Karolyn wanted a team of teenagers to get her entire, rather overgrown, property back into shape, so she used Teen Jobs.

"They were amazing. They turned up on the dot, brought all their own gear and they problem solved, consulted and were all about what they could do for the client."

"They were the politest young men, they blew me away!"

- Karolyn Timarkos, Teen Jobs Employer Read the Full Article by The Weekend Sun
Only Pay to Contact Your
Perfect Candidate
Why pay for access to job seekers who don't suit your job? With Teen Jobs, you can view profiles and contact the first three job seekers for free, ensuring a good fit.
Freeto search and view
teenagers profiles Freeto contact the first
three job seekers $3.99per contact
after the third $19.99per month for
unlimited contacts
Thousands of Job Seekers in These Categories
Retail

MOST POPULAR

Hospitality & Tourism

POPULAR

Administrative & Reception

Delivery

Warehousing
Babysitting

POPULAR

Cleaning

POPULAR

Animal Care

Tutoring

Voluntary Work
Lawn Mowing & Gardening

Labouring

Rural

Apprenticeship

Internship
Are You a Teenager Looking For a Job?
Create a Teen Jobs profile for free and have employers contact you with job offers!
Learn More
We're Creating
Tomorrows Workforce
At Teen Jobs, we are on a mission to provide New Zealand's youth with life skills to establish good work habits in our next generation!
Why Employ Teenagers?
Teenagers are a blank slate, so you can influence their attitudes and establish good work habits.
Teenagers prefer part time work, so it provides a lot more flexibility to manage your labour requirements.
When saving for a goal, teenagers are very motivated.
Teenagers can approach old problems in a fresh way.
Work Hard | Play Hard Initiative

- See what motivated teenagers can do.